Scavenger Hunt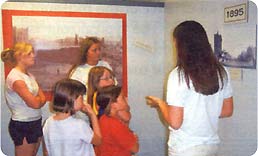 What better way to discover all that the Museum has to offer than by searching through the Museum on your own. Scavenger hunts are always fun to have and learn about history!
Programs
45 minutes to an hour, recommended for Pre-k to 8th grades
Groups will make their way through the Museum following clues. Each clue leads to a different artifact or gallery area and helps teach participants about life in Oklahoma from territorial days to the present.
There are scavenger hunts designed to cater to two age groups of children. The first is a matching game that takes children through the Museum, having them match the item pictured to the exhibit that it is found in. This hunt is designed for pre-k to 2nd graders. The second hunt, designed for 3rd to 8th graders, forces children to read exhibit signs and to think critically. Both scavenger hunts take students all through the Museum.
Example
Clue: If you were a firefighter in 1900, you might have used this to help put out a blaze. This has a bell.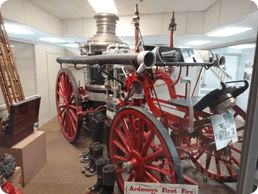 Answer: Steam-Pump Fire Engine, 1900, in From the Ashes
Visiting the Museum
Scheduling a Trip
Groups are encouraged to make reservations for tours and programs well in advance to ensure availability on the desired date. If you would like to bring a group to the Museum, please contact us at 580.226.3857. Neustadt Park is available for those wishing to bring lunches.
Please give at least one week advance notice of all groups.
For school groups a minimum of one adult chaperone is required per every 15 students.