Santa's House on the Prairie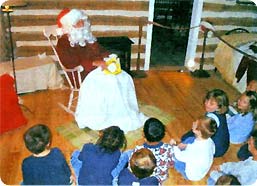 Step back in time on a magical holiday journey with the sights and sounds of Santa's House on the Prairie.
Begin your journey in the Holiday Forest. Listen to a story and use your imagination to bring the Daube Department Store puppets to life.
Next, one of Santa's helpers will escort you to visit Santa inside his cabin. This is an original log cabin built in 1892 and later relocated to the museum. Once inside the cabin, Santa will tell you a story about one of his adventures.
From here you will move on to Mrs. Claus' kitchen, where you can decorate your own cookie.
Now you are off to your final stop on the journey, Santa's workshop. Here you will decorate your very own ornament or card to take home.
We hope that throughout your journey you learn all about pioneer life and how early settlers celebrated the holiday season.
Santa's House appointments can be made at 15-minute intervals from 9:00 to 11:30 a.m. It takes at least an hour for students to complete all the activities. The cost is $2 per child but free to teachers and helpers. Slots do fill up fast so please remember to make your reservations early.
Visiting Santa's House
Santa's House on the Prairie 2016
Information coming soon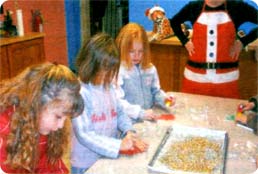 Volunteers
Volunteers play a very important role in Santa's House and help to keep the program going. We are always in need of a little extra help during the two weeks that Santa's House takes place. Some of the areas you may work in are: reading to children, decorating cookies, helping with crafts, dressing as Santa or Mrs. Claus, or helping groups navigate from station to station. If you are interested in volunteering for Santa's House, stop by and sign up, or you can call us at 580-226-3857 or email our curator, Kevin, at knunnelee@gshm.org. This year, we will have special door prizes for all volunteers.
Tree Sponsorships
In order to help offset the costs of Santa's House and to make the program a great success, we have several Christmas trees that are up for sponsorship. These trees are featured in our Holiday Forest, and have the names of the sponsors displayed on them from the beginning of November to January 1. If you are interested in sponsoring a Christmas tree this year, please call us at 580-226-3857 or email our curator, Kevin, at knunnelee@gshm.org. Cost is $100 for a small tree, $150 for a large tree, and an additional $25 if you would like for GSHM to decorate the tree for you. We will do our best to use the colors or themes that you choose.