About
The Greater Southwest Historical Museum features exhibits and programming that highlight the history and culture of south central Oklahoma. The centerpiece of the museum is the Sam Noble Hall, containing exhibits that recreate life in a turn of the century community. Beginning with an original log cabin, the town includes displays of a general store, drug store, a medical and dental office, law office, courtroom, post office, school and blacksmith shop. Also featured in the main hall is the Eaves/Brady Cabin, built in 1892. This cabin was moved to the museum from Pooleville, Oklahoma, and accurately represents frontier life at the beginning of the twentieth century.
Other major exhibits are housed in three main wings. To the north, the Transportation and Industry Gallery outlines the early industries of South Central Oklahoma: the railroad, cotton, and the oil industries. This wing also includes early carriages, saddles, soapbox derby cars, and a working model of oil field equipment. The south wing of the Museum includes our "From the Ashes" exhibit, the Fonville Gallery, the Genealogical Library, and our newest exhibit, which outlines items that were found in the early homes of the area. Some highlights of the wing includes Ardmore's first fire engine and hand tools used by early farmers. The west wing features the Military Memorial Museum, dedicated to the preservation of military history from the American Revolution to the Gulf Wars, and honoring our Nation's veterans. Two main features of the Military Memorial Museum are its painting from a World War Two barrack building from the Ardmore Army Airbase, and its display of uniforms representing the seven uniformed services of the United States. The Military Memorial Museum is likely the only military museum in the nation that features these two items.
The Tools of Our Land Exhibit features collections of tools and equipment used in the agriculture and first oil fields of the area can be found on the grounds of the museum.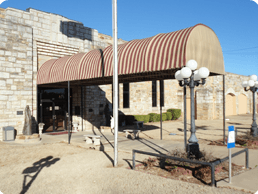 The museum is an entertaining historical and educational experience for the entire family.
Staff
Wesley V. Hull
Director
Lisa K. Allen
Office Manager
Kevin W. Nunnelee
Curator
Paul Wodarz
Maintenance