Military Museum
Dedicated April 28, 1990, the Military Memorial Museum is housed in one wing of the building that once served as a National Guard Armory for Oklahoma's historic, battle-proven 45th Division. Built by the Works Progress Administration in 1935-36, the building itself is a monument to that time-period in Oklahoma and the Nation's history. The museum is a result of the foresight and leadership put forth in the mid-to-late 1980s by Brigidier General George M. Donovan and dedicated volunteers who worked tirelessly during 1989-90 to renovate the building and prepare the displays. The men and women who serve as guides or "Charge of Quarters," administrators and directors are volunteers.
Exhibits
Displays in the museum represent all eras: the Civil War, the Spanish-American War, the Indian Wars, World War I, World War II, Korean Conflict, Vietnam, the Gulf War and Iraqi Freedom War. The displays include artifacts, documents, photographs, uniforms, weapons, knives, models, medals and a great deal of personal memorabilia from veterans all over the United States.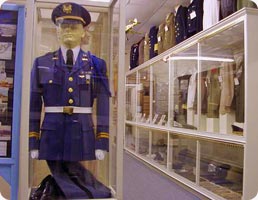 Mission
Our mission from the begining has been to preserve and display Military History, and to honor those persons of all service branches who have served this country in war and peace. We firmly believe that if we do not preserve our Military History for future generations to see, observe, and appreciate, soon we will have lost the reasons for our freedom and heritage. We further believe that if we are to accomplish our mission, we must have the dedicated support of all veterans from all branches of service and their loved ones.
Funding
Although the Military Memorial Museum is located in the west wing of the Greater Southwest Historical Museum, it is self-supporting and does not share in the gifts or donations made to the larger museum. The following items are the main sources of revenue for support.
Annual Memberships
  • 1 Person: $15.00
  • Husband and Wife: $25.00
Life Membership
  • 1 Person $100.00
Hall of Honor
A donation of $50 will purchase an engraved plate showing the donor's name and the name of the recipient being honored. Memorials may be made "In Memory Of" a veteran family member or veteran friend from any state or branch of service. The entrance and main corridor of the Military Memorial Museum is recognized as the Hall of Honor.
Link of Interest
The History of the Ardmore Army Air Field (1942-46)/
Ardmore Air Force Base (1953-59) link
A memorial site dedicated to the men and women, who served with distinction at the Ardmore Army Air Field, a training base for the U.S. Army Air Forces.