Tools of Our Land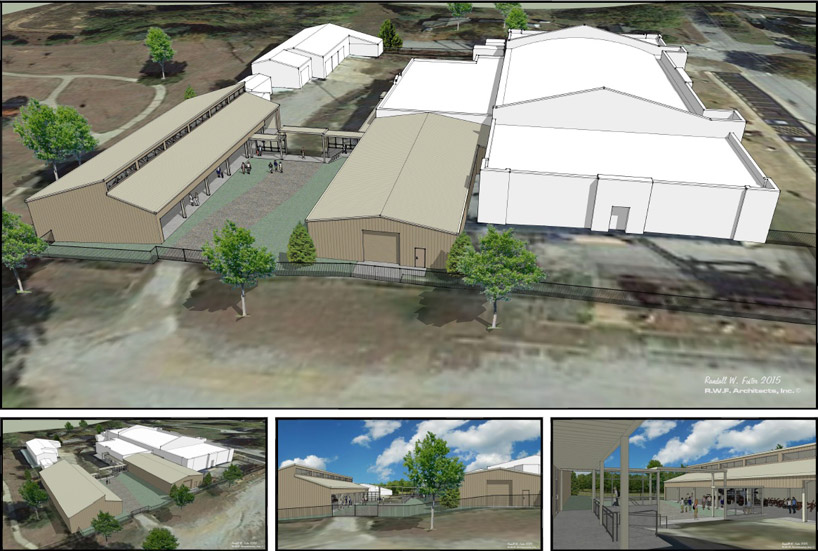 Since its founding in 1988, the Museum building has been surrounded by one of the most complete historic farm equipment displays. Throughout the years, GSHM leadership has addressed the need to construct a rural life and farm exhibit building to house the exhibits. However, past leadership showed a lack of ability or interest in using the collection, and it has continued to rust and deteriorate.
In April 2014, the Board of Trustees of the Greater Southwest Historical Museum agreed to support a "Tools of Our Land" project, and asked Wes Hull to chair a new committee to develop a plan to properly preserve and display the early day farm equipment in the Museum's Collection.
Apollo Building Systems of Moore, OK has been asked to assist in designing and building new buildings to house a new "Tools of Our Land" exhibit. To this date, a GPS, as built, survey has been conducted to drive a CAD/CAM program do develop site plans. From these site plans, architectural renderings have been developed.
The new "Tools of Our Land" exhibit will consist of two buildings, totaling 11,000 square feet of exhibit space. An enclosed building, measuring 5,000 square feet, will be built five feet from the main Museum building, in order to house the more delicate of the farm equipment. This building will have wheelchair access, a heat and air system, and all necessary security systems. West of the enclosed building will be another building, measuring 6,000 square feet, and completed on three sides. This building will house more durable equipment and the interior soffits will be sealed in order to keep birds and other critters from nesting and roosting in the building.
It is the Museum's goal to raise $725,000 to complete construction of the new project. The completion of this project will ensure that our area's agricultural past is properly preserved to teach our history for future generations to come.
If you are interested in donating to the "Tools of Our Land Fund," please contact us at thegreatersouthwest@gshm.org or the phone number, 580-226-3857. Additionally, you may send checks to the Museum, made payable to GSHM-Tools of our Land, to:
Greater Southwest Historical Museum
35 Sunset Drive
Ardmore, OK 73401
Thank you for your support! Please know that your contribution to this project will ensure that the legacy of our agrarian roots will continue to live on through our descendants.